Real, Honest
Wedding Photography Education
This is the real-world education platform that I wish I'd had access to when I started my own wedding photography business years ago.
—Susan Stripling

get instant access to all courses, downloads, live events... everything!
Membership
or Learn More
buy lifetime access to popular individual courses
The Store
Browse individual courses in our store: Shop Now
Who Can Benefit From Wedding School Membership?
New or Aspiring Wedding Photographers
The Wedding School will help you learn quickly and thoroughly, allowing you to develop your craft during the early days of business, while still taking care of the needs and expectations of your clients. Moreover, you will learn critical business skills necessary to run and market your business, and to generate ongoing sales.
Experienced Wedding Photographers
The Wedding School provides updated education and support to address the changes in technology, marketing, and generational desires frequent in today's wedding photography marketplace, helping you learn new-school techniques to stay competitive in a rapidly changing, digitally connected world.
Simply put,
The Wedding School was built to serve ALL wedding photographers,
both new and experienced...

Join Thousands of Other Wedding Photographers Who:
Have benefited from a real-world training program that cuts through the fluff and goes straight to the important information needed to quickly progress your wedding photography business.
Have learned how to grow a stable and profitable wedding photography business by providing exceptional service, skill, and artistry to the couples they serve.
Have access to a well-organized and comprehensive educational curriculum that is 100% dedicated to wedding photographers, located in a single place, making it easy to find exactly what you want when you want it.
Have access to a continuously updated Learning Library, ensuring that you will can always stay on top of what is relevant TODAY and not what was relevant last year.
Are part of a collective community dedicated to wedding photography as a profession, a service, and an art form, which will help raise the standard of what it means to be a professional wedding photographer.
What's Inside?
The Wedding Fundamentals Series
The Wedding Fundamentals course at the heart of The Wedding School includes dozens of individual video courses and 4 comprehensive PDF workbooks with over 300 pages of content that bring together everything Susan Stripling has taught and learned about wedding photography in her career.
Preview the Wedding Fundamentals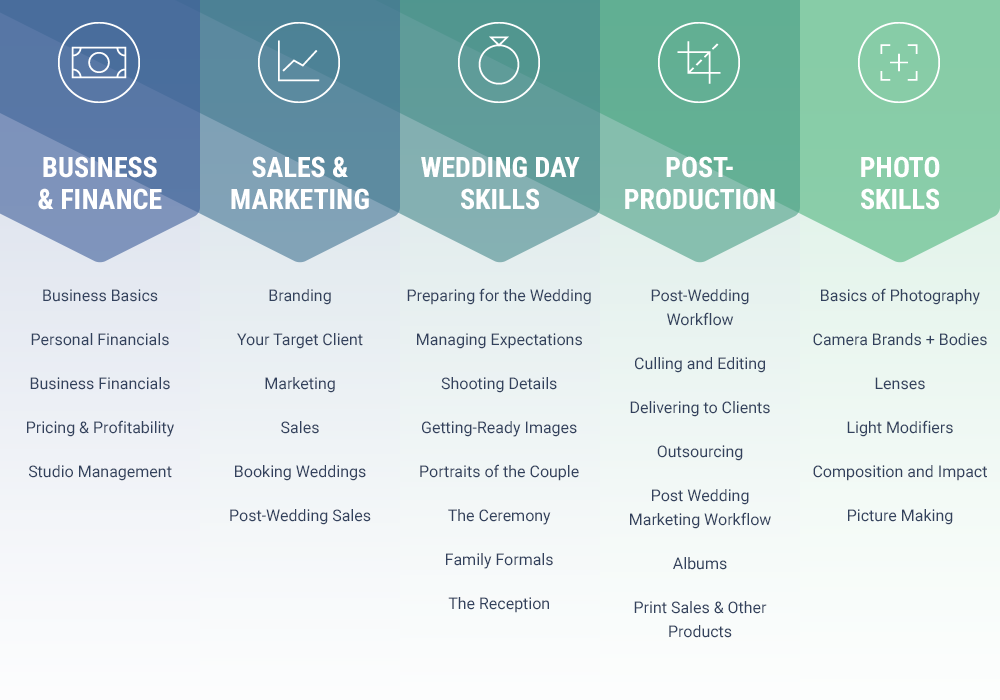 Preview the Wedding Fundamentals
& there's more below the surface
Unlimited Access
to the ever-expanding learning library
A growing collection of deep dives into the most requested wedding photography topics taught by Susan Stripling and guest instructors.
"This program covers just about every topic imaginable related to running a successful wedding photography business. This is pretty much wedding photography college." -Resource Weddings Magazine
"I absolutely love Susan's no nonsense, no excuses approach to the wedding business. Her teaching instills clarity and confidence in a small business owner regardless of experience level - you will learn applicable skills that will make your business more manageable and more profitable." -Julia Zave Photography, San Francisco, CA
"Susan's videos were the single most important investment in my photography career. Her skills knowledge and passion for education are inspiring. I would not have been able to start a successful wedding business without it and as I continue to grow I am still referring to the videos for support." -Elaine Barker Photography. Dublin, Ireland
"Susan is not only a fabulous photographer, but an amazing teacher. You can tell she puts her entire heart into both her photography and teaching. Everything is spelled out clearly, and she is an open book about how she works. I highly recommend her!" -Crissy Everhart Photography, Philadelphia, PA
"I truly believe that Susan has inspired me to be a better photographer and a more focused businesswoman, and since watching her videos my photography has turned a corner, after 15 years in the business!" -Chanon Devalois Photography. United Kingdom
"What separates Susan's educational programs is that she isn't there to tell you stories of rainbows and unicorns but instead to provide you with the direction to confidently run your business and to grow as a photographer. She is a refreshing voice in a noisy industry." -Jeff Allen Studios, Raleigh, NC
"Simply fantastic. All you need to know about wedding photography." -Jo Charles. London, UK
What Do I Get With My Membership?
1

100+ Hours of Wedding Fundamentals

You'll get access to all educational videos in the wedding fundamentals series covering all aspects of how to make a living as a profitable, working wedding photographer.
2

Facebook Group

Join a community of other photographers focused on growing their wedding business to discuss each week's lessons, share work, and build your professional network.
3

Access to Learning Library

As part of your membership, you'll receive full access to a growing library of education from Susan and other renowned photographers.
4

Part of A Larger Mission

We believe that wedding photography is important. Our long-term mission is to provide the education, community, support, and clarity of purpose that raises the standards of what it means to be a professional wedding photographer today. We want The Wedding School to become the industry benchmark for the type of honest, real-world education that the wedding industry needs.
5

300+ Pages of Textbooks

Follow along with Susan's lessons in this massive resource guide, exclusive to members of The Wedding School. You'll get four in-depth, downloadable textbooks.
6

Monthly Q&A Sessions

You have questions, Susan has answers. Each week Susan will be recording special Q&A sessions to answer questions coming up in the Facebook group or in the individual course segments.
7

Guest Instructors

No one teacher is an expert in all things, especially in an ever changing field like wedding photography. We work with a variety of instructors to create special deep dives into photo techniques, lighting and more with. This is all part of the growing learning library.
8

30-Day GUARANTEE

If you sign-up, try it out, and decide this isn't for you, just email us at support@theweddingschool.net and we'll issue you a full refund. Easy.
Plus, A Ton More Testimonials...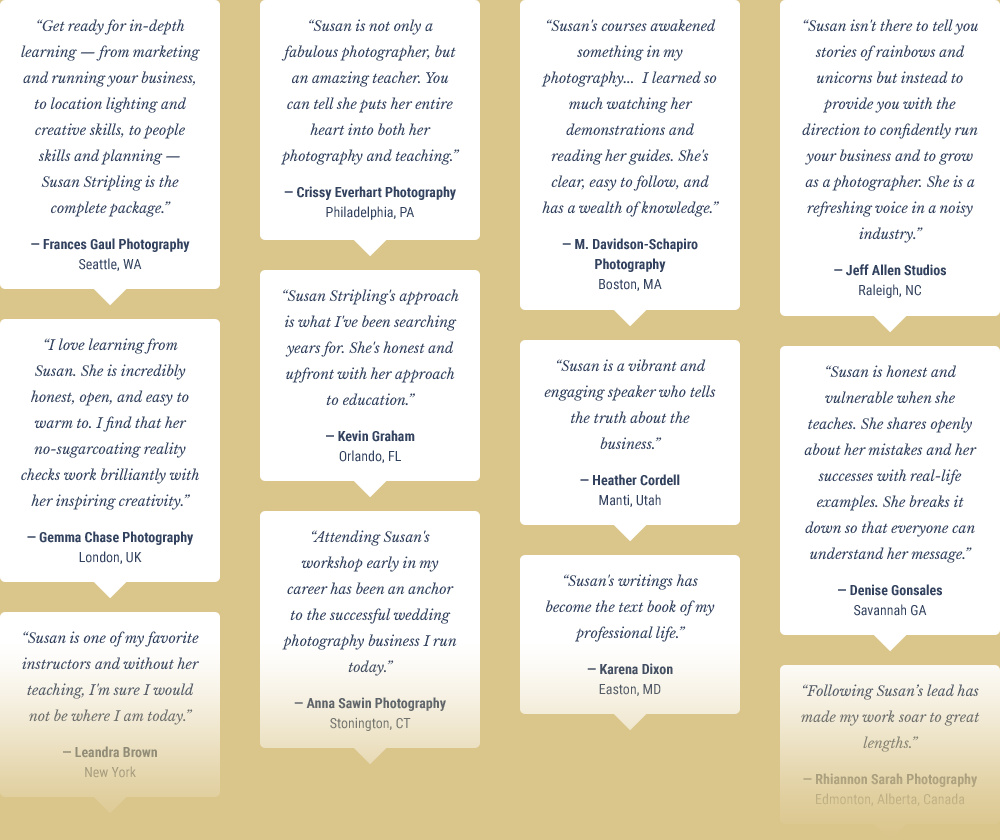 Read Lots More...
Seriously, click to check out the full list. It's a remarkable collection.